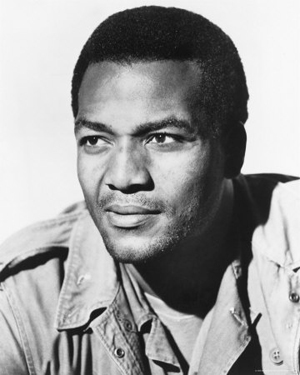 I grew up in Ventura, California and was weaned on two things: the science of football and a disdain for hero worship. My dad had Los Angeles Rams season tickets for almost 15 years, and as a kid I made the 2 hour trip each way with him to the immense L.A. Memorial Coliseum to watch Ram home games.
Tunnel 19, Row 40, Seats 120 & 121 for those of you scoring at home.
Hours before kickoff every Sunday we would make a stop along the way – a place in downtown Watts called Golden Bird – to pick up a couple boxes of the world's best fried chicken. After making the short drive from there to the stadium, we'd walk to one of the massive lawns outside the Coliseum turnstiles and settle in for a pregame picnic lunch.
A smallish establishment at the time, Golden Bird Chicken's interior decor was more of a wood-paneled pub than a fast food diner. On its wood-grain walls and polished wooden shelves were photographs of, and trophies belonging to, Cleveland Browns hall of fame running back Jim Brown.
In those days, athletes needed second and sometimes third jobs to help pay the bills as NFL salaries lacked the GDP qualities of today's player compensation packages. Ludicrous network television contracts hadn't been invented yet.
Few owned their own business; and of the few who owned their own business, even fewer were "minorities." An inequality Dr. Martin Luther King addressed fervently throughout his amazing life.
Watts in the mid-1960s was turbulent to say the least, a downright dangerous place to venture into if you didn't know anybody. Even more so if you're Caucasian – which my family is. Regardless, the manager of Golden Bird Chicken knew us as Ram gameday regulars and we "white folk" were always welcome in his establishment. I remember him being nothing less than an upstanding, down to earth gentleman.
- – - – - – - – - -
It was a bustling gameday Sunday morning, December 12th, 1965 – almost 4 months to the day after the Watts riots began. Still vivid were memories of a scary Saturday night when the Rams preseason game against the Bears was stopped because of the violence. The countless cracks of gunfire echoing through the streets as we hauled ass out of there replayed in our heads at full volume every time we went back. And we had to go back. Golden Bird was our pregame tradition.
On that vivid December 12th morning the Cleveland Browns were in town, and the line to get into Golden Bird snaked half way around the block. My dad and I stood in line for what seemed like forever. The longer we stood in line the more places in line we lost; often getting sneers, scowls and stare-downs while being bumped further toward the back.
After close to half an hour of this, dad grabbed my hand and turned to walk us away from a potentially volatile situation …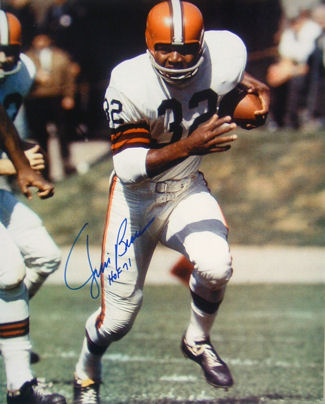 … when the seas parted.
Up walks an imposing but smiling Jim Brown. He asked us if everything was alright. We nervously looked around, afraid to say anything. So he took my other hand and walked us both past the six dozen or so people who had amassed at the entrance – right up to the glass counter. He then moved around and behind the counter, donned an apron and personally took our order.
The entire restaurant, packed wall-to-wall with boisterous patrons, fell completely silent. Then silence turned to utter shock when Mr. Brown walked back around the counter while his people were packing our lunch and handed me a drumstick. He smiled again telling me that, while it was impolite to eat in a food line, I had his permission to go ahead and enjoy the drumstick while we waited.
So there I was, a seven year old white kid, standing at the head of a long food line in the middle of downtown Watts, the locals staring in stunned disbelief, just months removed from one of the most dangerous race riots in the city's history, savoring a drumstick that Jim Brown personally handed to me. Envision Bill Cosby's face when he tells the story of how his kids reacted after being served chocolate cake for breakfast. It was magic.
The moment our order was completed, Jim Brown handed an unusually large bag to my dad and shook his hand, thanking him for our business. Mr. Brown then squatted down, put an enormous hand on my tiny shoulder, peered into my soul and said "This is my extra special chicken. I hope you like it son. Remember this moment always. The color of our skin makes no difference, for we are all the same color inside."
Remember the moment? I've been color blind ever since.
What a man.